365 Days (and two weeks) in LA
by Pilar Walsh
August 2003



I wanted to share with you folks a little of my experience in Los Angeles because so many people want to go there and see if they can make it in the crazy world of film, theater and music. It is all it's cracked up to be. Even though I've lived there most my life, I never dreamed that acting was a viable, exciting, and alternative lifestyle to being a stay-home mom and wife.

My heart really wanted to stay in LA but I had to make a very life-changing decision to come back to Austin but I'll explain that later.

Part of me is glad to be back to the sanity that is a smaller city but of course, I do miss the ocean, the beautiful weather, my friends, and most of all, THE SHOPPING that is so exceptional in Los Angeles. Some of you may know me from one project, class or another. I'm with Acclaim Talent so you can access my headshot online and see who I am. Anyway, I just wanted to share with you some of my experiences in the land of mass market filmmaking. I found it to be very different in LA now. Even from the time I was there in 1996 before I had ever lived in Austin it has changed so drastically. EVERYONE wants to make it as an actor there. The market is not saturated with wonderful talented beautiful people, it is OVER-SATURATED. It is truly amazing.

My older daughter who was in LA going thru a divorce and schlepping her kids from one audition to another wanted me to come and help her out. (She eventually moved back to Hawaii). So I leased my home for a year, packed my car up, recruited fellow actor Brandon Howe to share the driving and headed to Hollywood. Actually it was Pasadena or bust. I want to say, for someone my age and limited experience, I had a wonderful very fulfilling time and met so many wonderful people. I do love LA. It's just living in Austin is sooooo much easier and better for my kids. I have two sons 14 and 15 and a daughter 12 who was flunking 7th grade so I had to make the decision that they must come first so I packed up my stuff and got back here as soon as my home was available and made sure she passed and went on to 8th grade with all her old friends. Also, to be able to refinance my home to pay my property taxes, I had to be living in the house.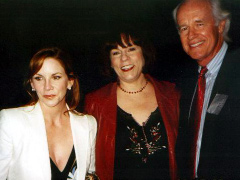 As for LA, I want to say that it can be a wonderful learning experience for anybody interested in acting as a profession. Just don't try to have the competing demands of parenthood and a career. The first week I was there, I went immediately to Central Casting and signed up for work. Right away I got a job on Presidio-Med. I was working background but hey, it was a job. Went to the Warner Bros. lot in Burbank and got fed really well. The stars Dana Delaney and Blythe Danner were great to watch giving their all. Excellent actors both. The next week I was on the set of "Catch Me If You Can". I had been in LA two weeks and there I was, dressed up as a socialite pretending to have a meal in this historic home(altered to look like a restaurant) in Central LA and, dig this, sitting across from Leonardo DiCaprio and Christopher Walken, watching Steven Spielberg do his thing. I was definitely having a good time. As I left to go home, I walked by Tom Hanks giving an interview. What a honey. Once again, they fed us really well and I got paid to just pretend I was eating. Not a bad day at the office.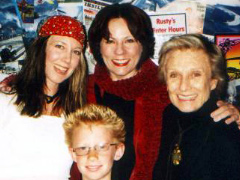 I had actually sworn off doing background work ever again. In 1996 I had done a lot of background work and on the set of "Lois and Clark" my friend turned to me and said,"who do I have to sleep with to get OFF this set". That was it for me too. So I was hoping. As life would have it, two summers ago, I had a great part in Rebecca Fulton's film "Dogs Bark" and told myself,"it's only speaking parts for me now" but alas, being in LA sure changed all that. I needed money and it's better to be on a film set than waiting tables. Had I stuck to that commitment of no background work, I would never have gotten to meet some really great actors and get my SAG card. Please forgive me for name-dropping. It's sort of part of my experience. To be surrounded by well-known working actors and feel that anything can happen. My next job was with "Down With Love". Two days work in the most painful shoes I have ever worn, but funnily enough, Renee Zellweger made a comment about how cute they were, then the day we worked on the elevator scene, she actually told the director to call me over and discuss some business I was to do with her and she actually stuck her hand out and said " Hi, I'm Renee," I was stunned that she was so friendly and unassuming. I told her I had come from Austin so we chatted breifly and I was convinced that she was the standard on how to treat all people you work with no matter what you are doing. That's probably why she is now making $22 million for the next Bridget Jones movie. Or not? Who can tell why some people are so fortunate.....
So from that encounter I worked on a Spanish soap where I didn't know anybody and then eventually got a small part on MAD-TV, but that is because I knew the wife of the stage manager and she gave him my headshot. It really helps to know people in the business. The three guys from "A Mighty Wind" were on the show and I felt so fortunate to watch them rehearse and sing. In the summer when things died down a bit, I got a job working for MAC Cosmetics in the Beverly Center and there I met at least a dozen more of my favorite actors. I'll spare you the name-dropping. I know it can get obnoxious.
There is so much more to share, like the actual car trip with Brandon Howe, and knowing him which brought me to the gift of seeing a phenomenal play called "Necessary Targets" by Eve Einsler. She wrote Vagina Monologues. Brandon worked on Dogs Bark with me and a few months in LA he had gotten a job with a production company, Abandon Pictures, which produced the HBO special of Vagina Monologues. So he called one day and said he had two tickets for me and a friend to go see this play. It turned out to be a staged reading actually but the cast was unbelievable. Calista Flockhart, Juliana Margulies, Julia Stiles, Cloris Leachman and two other women I didn't recognise but were just as phenomenal. It was so profound to see this story brought to life I hope it comes here someday. It's about the Bosnian refugee camp women and their stories. I will never be the same. I even met Holland Taylor that night who I admire tremendously. There I go again...
So for every joy there is a sorrow and right after that my daughter landed in the hospital with a burst appendix and an infection in her abdomen and she was there for two weeks. I really thought I was going to lose her. So talk about putting things in perspective. I will never be the same after that either and all my women friends who rallied around me, it took my breath away. I learned something so valuable and I have so much gratitude for what I learned.
Coincidentally, Rebecca Fulton, who does a lot of script supervising on films like "The Good Girl" went out to LA at the exact same time as Brandon and I. In the beginning of this year we were surprised to find out that the film Dogs Bark was accepted into the New York International Video and Film Festival in LA. I actually got to see myself on the big screen. I also was able to invite a bunch of my friends. That was a real high point of my time there. The festival experience was truly an education on a whole other aspect of the film world. So many people making their own films and some of them pretty good. Most will never see distribution.
A month before left I started working a lot on a new HBO Series called Carnivale. I was a core group of parishioners and it was set in the 1930's. Amy Madigan and Clancy Brown are two of the leads. I was so impressed with watching them work. Had I stayed in LA who knows what would have happened. Many of my friends that I had gotten to know there were working full-time as background for shows like "Just Shoot Me" "Boston Public" and "Judging Amy. But I wanted speaking parts and that meant doing so much hustling I don't think I could have been up to the challenge, I did have an agent but the only time she called me was when I did a workshop with a casting director. He asked if any of us could sing and I did a Sondheim song. A week later my agent called and said this guy wanted me to audition for a musical in Long Beach. That was my first real audition and I felt good about it. That was right before my daughter was in the hospital so even if they had hired me I would have had to turn them down. I felt very validated though. Funny how things work out.
Having the opportunity to join SAG was another phenomenal turn of events. They give you so much literature to help one get started in the business including making sure you get the message, "YOU WILL NOT MAKE A LIVING AS AN ACTOR". Wow! So what else is new...Also, they practically stamp on your forehead "NO NON-UNION WORK." I did get to join an organization in the SAG building called Career Transition for Dancers, since I had worked a lot as a dancer when I was younger. I was able to take computer classes for free, get career counseling and support and attend meetings with many ex-dancers who have made the change to another career. I loved it. So after all this testing and counseleing I received a list of alternative jobs. Guess what? The first on the list was "character actor". I just laughed. So what else is new. But of course I chose to follow up another job on the list which is Public Relations Specialist. That seems to be what I'm endeavoring to accomplish here. Just how to start is the challenge. Other benefits of being a SAG member in LA(being in Austin it's almost a handicap) one can attend these meetings called "conversations with......meaning a very accomplished actor would come to the SAG building and talk about their career. Sort of like The Actors Studio on Bravo. I was able to hear and meet Mary Steenbergen, Alfred Molina, Selma Hayak, Martin Landou, Lou Diamond Phillips, Edward Norton, Roberto Benigni and Nicoletta Braschi. I missed so many of them too, Robin Williams and Hugh Grant I heard were really funny. Some we got to see the movie they were promoting at the time. Then there was the business side to what SAG is all about. I went to the SAG meeting for the Hollywood chapter right before coming back here and observed something so sadly divisive as the merger of SAG and Aftra. Causing so many actors to become very upset. I was wondering does it have to be so much about big business and numbers and some people being treated better than others???
I love acting, singing, dancing. I love performing. My friend in LA said to me one day, "how can you do something where you have to ask someone permission to be creative?" That got me thinking.... Believe me I have tried to give it up. I might as well stop breathing. I'll just keep following my guidance and for now I'll keep to the moment and know that what ever I do or experience it is a gift. There is much more that happened but I'll save it for another time. I wish you all the same blessings that have been bestowed on me. Thank you for allowing me to share all this with you. God bless.